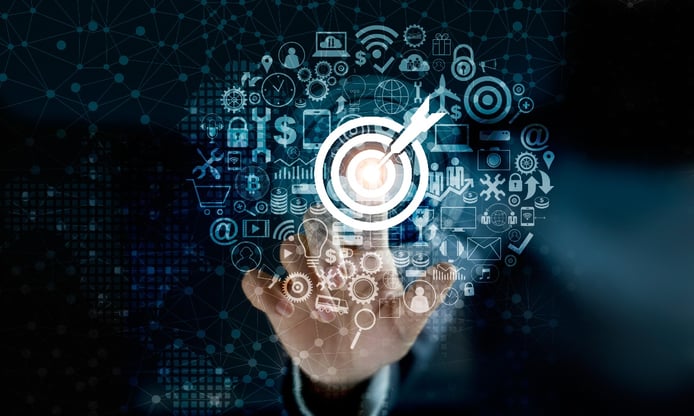 Targeted advertising is an incredibly important way to connect with your audience and ensure that you're reaching out to people who have a genuine need in your industry, for the type of content you can offer. Targeting matters. More than 40% of consumers would rather see targeted ads than random ones. Targeted ads are more likely to reach people who actually want to buy your products, while randomized ads may have a lower overall return on your investment.
Have you considered the various ways a media company can help you better target your ads and connect more effectively with your target audience?

What is Targeted Advertising?
Targeted advertising narrows down your audience based on the specific characteristics that you know relate to your target audience. For example, if you're creating products geared toward infants, you might want to target young mothers: women in the 20-35 range. On Facebook, you might target them based on their activities and interests. Have they recently added a new family member? Do they regularly like and follow content related to infants or young children? If so, they may fit into your target profile. If you have a small, local business, you may want to focus on targeting individuals within your general geographic area.

When you target these individuals who clearly fit your profile for your preferred buyer, you can increase the return on your advertising investment. The more highly targeted your ads, the better you can narrow your target audience.
Targeted ads aren't just available on social media, either. As you work with a media partner, you can find several ways to effectively target your preferred customers throughout your marketing campaign.
How a Media Company Can Target Your Audience Through Advertising
A media company will help you utilize multiple strategies to reach your ideal target audience and maximize your marketing dollars.
OTT
OTT ads can be targeted based on the type of content consumers watch. Some consumers may naturally watch specific programs on a regular basis. You can also use OTT ads for retargeting since those devices and profiles are often connected to the users' social profiles or browsing data.
As a home improvement business, for example, you might want your content to appear in front of people who enjoy watching home improvement shows. Or you might want to target shows that are highly popular with couples in a certain income range or from a certain demographic. You can also use users' profiles and other behaviors to help target their ads. A media partner can work with you to ensure that you create high-quality ads that appeal to your target demographic and that you have targeted them correctly.
Social Media
Social media makes it easy to target your preferred audience. Many social media users share a great deal of information on their profiles. They carry out a wide range of activities online every day, all of which connect back to their social profiles.

On social media, you can target users based on their general age range, their average income level, their likes and interests, and their other browsing behavior. Social media allows for a high degree of targeting in all of your advertisements, which can help ensure that you're getting your ads in front of the right people.
Digital Ads
Your digital ads can be targeted based on a variety of factors. Search ads may be targeted based on specific keywords and behaviors: when users search for specific content, they're more likely to see information from your website. You may choose to target your digital ads based on past browsing behaviors. What content have members of your target audience viewed before?
Digital ads are also an incredibly valuable tool for retargeting. Have consumers interacted with your brand on social media or seen your ads on an OTT platform? Have they visited your website in the past, including leaving something in their carts? If so, you can retarget them directly through effective digital ads.
Email Marketing
Your email list is an excellent opportunity to reach out to consumers who have already shown an interest in your industry. You can segment your email lists to allow you to effectively target consumers based on their specific behaviors. For example, a sporting goods store might send out different ads to a woman interested in boxing than they do to a man primarily interested in running.
In addition to your segmented email list, you may also choose to use your media partner's email lists. These lists may be divided by specific demographics, or you might have access to individuals within a certain geographic area who have already connected with your media partner. By utilizing those lists, you can often connect with people who might appreciate the services you offer, but who do not yet know about your business.

Targeted advertising is an ideal way to maximize your ROI. From digital marketing to email, a media partner can help make that process easier. Your media partner can also provide you with essential market research that will help give you a better understanding of your target demographic.