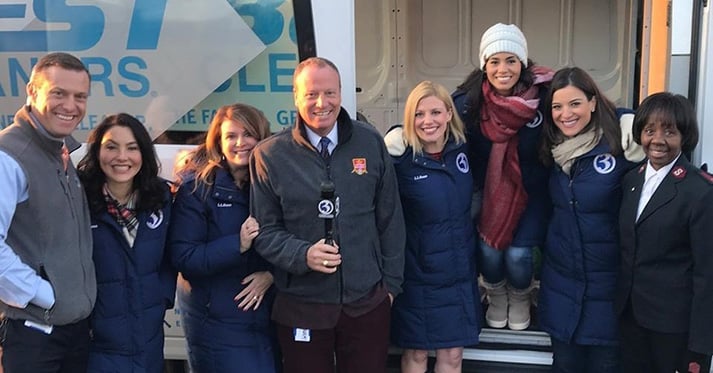 Your business should continue advertising right now, whether you're still waiting to reopen your business or you've already begun to open your doors again. Luckily,WFSB Advertising remains here to support you as you create your ads. We're still offering many of the services that our clients use most, including TV advertising, digital marketing, streaming and OTT services, and social and email opportunities. Here are a few options for how you can continue to safely advertise with WFSB during this time.
1. TV Advertising
TV advertising is an important medium no matter the times. Right now, TV viewership has grown more important than ever. WFSB is still creating TV ads right now. We have, however, shifted our processes to ensure that we're doing it in a safe way. We film from a safe distance and incorporate social distancing as part of our filming processes with all people involved. We have minimized contact with everyone and our team also wears masks to help offer an additional layer of protection.
We can also create commercials from past or digitally created footage. These commercials do not require us to shoot new footage, but can still allow for the creation of professional, high-quality commercials that will allow you to reach your target audience with an important message.
2. Digital Marketing
Our digital marketing services remain up and running. In fact, digital marketing is one of the best ways to keep working with theWFSB team while remaining at home or your own business. You can work on your digital marketing directly from the safety of your own location, communicating and collaborating with the WFSB team virtually.
Your business needs to stay top-of-mind with your customers. Your continued advertising efforts also help keep up the momentum you built beforehand. Digital marketing helps keep your brand in front of your target audience and in the mind of your customers regardless of the current status of your business.
3. Streaming & OTT Services
Right now, more people than ever choose to watch streaming and OTT services. Many people remain at home for the majority of the day. Even those working from home may choose to turn on programs for background noise or to keep an eye on the news. WFSB Advertising, we want to help you reach those customers by utilizing streaming and OTT ads. Often, we can repurpose TV and digital ads for streaming and OTT viewers. We can also use the same precautions that make it possible for us to continue shooting television commercials to help build your streaming and OTT spots.
4. Social Engagement
Social engagement offers a vital connection to your customers during this time. Not only can you continue to interact with your customers and keep up with their needs and desires in the midst of the current situation, but you can also align your brand with a respected brand: WFSB Advertising. Our viewers trust the brands that we partner with regularly. Our partnership can help drive traffic to your brand pages and increase interaction on the channels you already use.
5. Email Marketing
Email marketing offers a valuable way to stay in touch with your consumers and target audience. Your email marketing efforts can help keep customers informed about your brand and the steps you continue to take to keep them safe. Not only that, but emails can also provide customers with valuable promotional information, encouraging them to take advantage of sales and deals you might be offering. You can let customers know when you have access to critical products, including those that might remain in short supply throughout your area.
By positioning your brand alongside WFSB Advertising, you can use our email lists to send out updates on your business. That will allow our audience to learn more about your business and your services, including how interested consumers can take advantage of your services or support your business right now. This strategy can help you reach both new consumers and those who may have used your business in the past.
Working with a media partner right now can prove to be beneficial to your business. Your target audience needs to know what your business has to offer: the services you are still offering, what they can expect when they visit your physical location, and even how you can do business with you if you haven't reopened yet. WFSB Advertising, we strive to continue to provide the services our customers need most, including valuable TV commercials, digital marketing solutions, streaming and OTT ads, and email and social marketing, all of which can work together to help you create a more effective platform that will ultimately expand your business's reach right now.