A co-op advertising campaign can be huge for small businesses without a decent ad spending budget. Reports show that the annual spend for co-op advertising has hit $50 billion. The digital sector of this tactic shows the most potential for growth, an extra $5-$10 billion per year!
However, big companies won't offer co-advertising dollars to any brand that asks for a collaboration! You need to spend their funds wisely and help them delight their customers. We've got a few tips to make your co-op advertising campaign the best.
How Does Co-Op Advertising Work?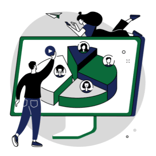 Co-op advertising is when a big retailer or manufacturer pays for the advertising campaign of a smaller or local business. Covered ad costs can include radio, TV advertising, printed media, or content shared on digital channels. This partnership can drastically increase a small business's advertising budget, especially if the other retailer pays for the entire campaign. Moreover, sharing a platform with a more prominent company improves your brand's reputation and visibility.
Common examples of co-op advertising are ads you might see in shopping centers. Poster ads for a store inside the shopping center might feature the store's main products. At the bottom of the advertisement, you'll probably see a plug prompting the reader to visit more places in the shopping center. The poster could also show real-life photos of people enjoying the store's products inside the shopping center's common areas.
The Best Ways to Use Your Co-Op Advertising Allowance
Before a retailer can give you co-op funds, it's your job to prove that you can use those funds efficiently. You'll need to start planning a marketing campaign that publicizes the relationship between your business and the manufacturer.
Often, the manufacturer will have strict guidelines about how its products and brand image need to be represented. Manufacturers will usually also instruct you on how much of their offerings should be included in the ad. To ensure a good business relationship, it's important to follow these instructions carefully.
At first, you may need to spend some of your own time and advertising dollars to conceptualize the campaign. This might include creating a mock-up poster or a rough recording of a radio ad. Even if the partnership hasn't been finalized, these are still technically co-op dollars. That's why it's important to confirm that you'll be reimbursed for the initial planning costs!
Even if the manufacturer gives you creative freedom, all proposed marketing campaigns must be submitted for pre-approval. This provides the manufacturer with the opportunity to provide feedback or request changes. This is also an excellent stage to outline when the manufacturer reimburses you for the entire campaign's costs.
Since the manufacturer is picking up most (or all) of the campaign's budget, don't skimp on advertising production and quality. This might include proposing extra billboards or having multiple poster designs with the same compelling message. This will attract more interested customers and yield a better ROI. Just remember to stay within the budget agreed upon by both parties!
After the campaign has ended, show the manufacturer that those co-op dollars were worth it. Give them performance stats that indicate mutual success for both parties. At this point, you should also invoice the manufacturer if you have yet to be repaid for the money spent.
A Few Co-Op Advertising Tips to Remember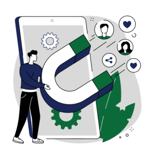 Throughout your campaign, keep a close eye on how much money is being spent. Keep receipts for all the materials used to create the campaign, especially paper ones (which are easily misplaced). Sloppy bookkeeping could potentially damage your relationship with the manufacturer, especially if multiple spending gaps exist.
While the customer's reception is important, make sure that your ads appeal to the manufacturer as well! Keep the manufacturer clued into every step of the design and production process, regularly asking for feedback. Going the extra mile could encourage the manufacturer to give you extra spending money or pursue more partnerships in the future. Manufacturers usually do repeat co-op advertising campaigns with 47% of their previous partners.
Sometimes you'll find a manufacturer that you believe would be a perfect co-op partner, but it doesn't have a co-op advertising program. This shouldn't hold you back from pitching your co-op advertising idea! You can outline why partnering with your company would be mutually beneficial. For example, you may have a lot of local customers in the area where the manufacturer is trying to branch out.
Discover All the Benefits of Co-Op Advertising
Lack of marketing funds or connections often stagnates the growth of small businesses, but co-op advertising makes a big difference. It encourages positive business relations, draws in more leads, and ultimately promotes long-term business growth. Without worrying so much about the advertising budget, you can focus more on creating quality advertising content!
A media partner might be a significant investment if you struggle to pitch your idea. They can pinpoint the most effective marketing channels for your business, proving your co-op campaign's potential success to the manufacturer. Once the campaign is up and running, these experts can also help you keep tabs on its success.