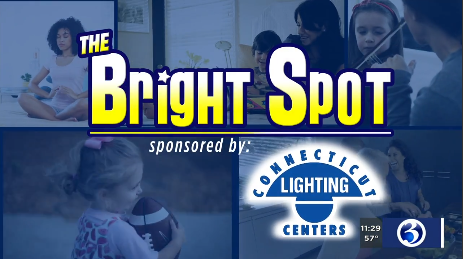 In the midst of the coronavirus crisis, many people and businesses are making adjustments to their everyday lives. At WFSB, we are making changes to our everyday operations, our lineup, and our processes to help provide while keeping everyone safe. We're all in this together--and we want our viewers to know that we're taking steps to continue to be there for them and provide them with the information they need.
Moments of Calm
While the stress levels associated with coronavirus are high, many people are struggling to find the time they need to slow down, calm down, and decrease anxiety. There are many things going on every day that can strike anxiety, so we want to provide opportunities for our viewers to relax and take advantage of calming messages.
Through our Moments of Calm series, we invite viewers to check out soothing videos that help wash stress away and create a feeling of relaxation. Some of our Moments of Calm include:
These brief videos are intended to provide a moment of calm as viewers scroll through their newsfeeds. While our viewers might not be able to visit many of these places in person due to the current situation, they can experience them virtually and reflect on memories with our Moments of Calm.
The Bright Spot
The Bright Spot is a daily, 2-3 minute segment in our 5-7 am newscasts. Each segment features a feel-good story designed to uplift viewers' spirits. These segments feature the ways that the good people of Connecticut are helping to uplift and care for each other: a "neighbors helping neighbors" perspective. These spots help our viewers see the good all around them and embrace the bright moments in the midst of the chaos. This uplifting segment will also be broadcast during the Daily Evening Newscast.
During times like this, we want our viewers to see the good in the world where they can: a positive perspective to help uplift the community. Often, it's easy to lose track of the good in the middle of all of the bad pouring in. We all need some positivity right now, and we want to bring that to our viewers by highlighting what people in our area are doing to help one another.
Cooking from Home
Our Something's Cooking segment is a popular segment with a lighthearted feel. This familiar segment brings a sense of normalcy into people's homes while providing them with recipes to try while in quarantine. One of the changes we're making right now is shifting the segment to be Cooking from Home.
Since we don't want to bring our employees into the studio to abide by social distancing measures, our staff is filming their segment at home. Cooking from Home is highlighting some great dishes that viewers might want to experiment with themselves while they're spending more time than usual at home.
News
Our viewers are turning to us for news and updates now more than ever, and we want to make sure we're keeping them fully informed. We're still delivering the same high-quality news reports we always have, but instead of taking place in the studio, news reports are coming to you live from our anchors' homes. Interviews take place via video calls, allowing us to connect with a wide range of experts and guests while providing important information and entertainment to our viewers.
While many of our workers remain at home to help flatten the curve, we're utilizing the virtual tools at our disposal to continue to provide a high-quality experience for all of our viewers. As the impact of the crisis continues to be felt throughout Connecticut and our nation, we want our viewers to know that we're there for them. At WFSB, we're all in this together.