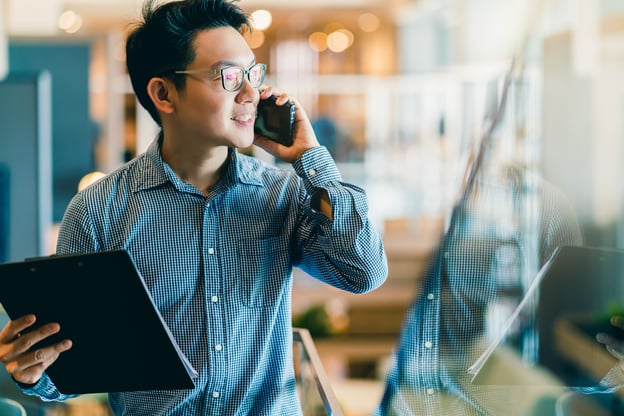 When you have a small business, creating a name for yourself and building the brand can seem daunting. How can you differentiate yourself from your competition and ensure that your brand stands out while still offering the high-quality service your customers have come to expect? Building your brand is an ongoing process. However, by working with an experienced media partner, you can create a brand personality and presence that fits your goals.
1. Stay consistent.
No matter what platform you're on or how you're interacting with your customers, stay consistent. Maintain the same brand voice. Offer the same quality of customer service. Focus on the things that are important to your company and why. Customers value consistency, especially when it comes to customer service interactions. They want to know what to expect from your brand from one exchange to the next. Consistency in your branding can also help improve brand recall and overall opinion of your brand.
2. Be personable.
Put a face to your business through your TV commercials and community involvement. Interact with your customers in a friendly way. Many of today's consumers are more interested than ever in supporting local businesses. They want to aid the community, just like you do. Find ways to give back through cause marketing. Partner with other small businesses or a well-known local media partner. Host segments on local shows. The more personable you are, the more connection people will feel to your brand and the greater the likelihood that they will choose to connect with you.
3. Have a presence across multiple platforms.
Where does your target audience spend their time? Are they watching TV or using OTT and streaming services? What social media platforms do they use? You need a solid digital marketing strategy as well as reliable, recognizable ads across multiple platforms. Using a multi-channel approach allows you to reach a wider audience and guide viewers from one platform to another as you provide them with a more substantial look at who your small business is and what you have to offer.
4. Be creative.
If you want your brand to stand out, do something different from your competitors. Put together a unique commercial. Design a social media ad or video that will help increase awareness of your brand. Be funny, or touching, or profound. Find creative ways to share exactly who your brand is and what you consider important. A creative ad is more likely to be shared and commented on. It's also more likely to catch consumers' attention--and that's what will ultimately connect them to your brand.
5. Engage with your audience.
Don't just create passive marketing content. Instead, look for ways to connect directly with your audience. Respond to their comments on social media. Ask questions. Get involved with the conversation in your industry. Attend community events, especially events that are relevant to your industry. The more active you are with your audience, the greater the emotional connection and loyalty they will feel to your small business.
6. Incorporate video.
Six out of 10 people would rather watch online videos than watch television. Fifty-five percent of people view online videos every day. Video is an incredibly powerful marketing tool, and it's rising in popularity with every year that passes. Videos are a great way to connect with your audience--and they offer immense opportunity for creativity. You can take people behind the scenes with your business, provide them with more information about your industry, or offer a video that tugs at the emotions to create a strong connection to your brand.

7. Find out the needs of your audience.
Pay attention to your customers. What do they need from your business? Are there specific products or services that they need--especially options that your competitors aren't providing? Are there specific attributes of your business that are most important to them? Listen to your target audience. Conduct regular research. Stay active on social media and listen to what your audience has to say. You may be surprised by the things that your audience considers necessary--and by how you can adapt your brand to meet those needs.
8. Cater to your target demographic specifically.
Your brand should have a specific target audience: a demographic that would benefit from your business. A senior living center, for example, might target seniors or their adult children. An athletic brand might target people who are engaged in specific athletic pursuits. When you know your target audience, cater to it. Shape your marketing and your available options to what your audience needs most.
Building your brand is critical as a small business. You want consumers to recognize who you are and what you have to offer and appreciate why they should turn to you for their needs. By working with a media partner, you can build a highly effective brand that will stand out from the competition.