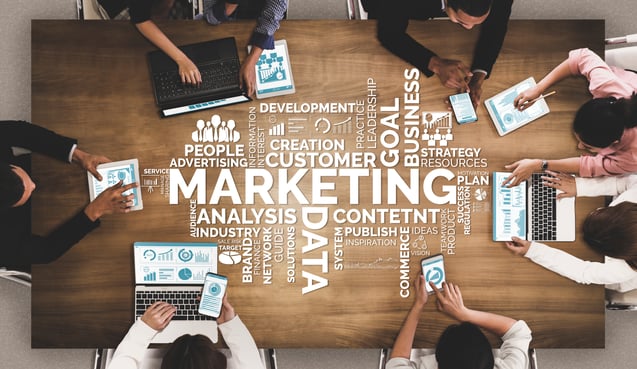 Sometimes, businesses think that word of mouth is enough to market their business. You may assume that if you keep your current customers happy, they will automatically spread the word about everything you have to offer. While 74% of customers feel that word of mouth influences their buying decisions, word of mouth alone is not enough to help you grow and expand your business. By incorporating other forms of marketing, you will find that you can expand your business substantially faster.

Ninety-percent of customers, for example, will do online research, including checking out reviews, before making a significant purchase. TV advertising can help keep your business top-of-mind and ensure that consumers know to reach out to you when they need your industry. For example, not everyone knows someone who will talk to them about the best medical care provider or the best spa services in town. Check out some of these marketing ideas that can help lift brand awareness and spread the word about everything your business has to offer.
1. TV Commercials
TV commercials are a great way to put a face to your business, sharing precisely who you are and what you have to offer with consumers across your geographic region. Creating a stunning TV commercial is a great way to spread awareness about your brand and let consumers know that you're there and ready to help. A great TV commercial can help keep you top-of-mind.
2. Digital Marketing
Digital marketing includes various strategies, including display ads, social ads, and advertising directly on a website. Today's consumers are looking for more digital information than ever. They do their research online and connect with the brands they care about. Digital marketing can help you create highly targeted ads that will reach out to consumers who are likely to be interested in the things you're selling. Your digital ads can increase brand awareness or catch the attention of consumers who might already be searching for information about your industry.
3. OTT
Today's households subscribe to an average of three streaming services. They're also streaming more content than ever: the average American is streaming around 8 hours of content per day.

OTT ads are a great way to reach out to your target audience. Like TV ads, they allow you to create highly visual content that will appeal to your viewers. They also allow some extra advantages. OTT ads are more highly targeted than traditional TV ads since you can target them to particular programs, viewing behaviors, or even past actions viewers may have taken.
OTT ads also allow consumers to take immediate action after viewing the ad since many users stream content on connected devices that they can use to access your website and social media pages while streaming.
4. Email Marketing
Email marketing offers an incredibly cost-effective way to reach your target audience. On average, email generates around $38 in revenue for every $1 spent. Not only that, it's a highly targeted way to reach out to your audience and allows a high degree of segmentation. Through email marketing, you can break down your target audience into smaller segments and send out information directly relevant to each segment.
You can also entice consumers to visit your website or encourage them to take further actions directly from that email. In addition to specific email ads directed to a broad audience, you may also choose to create emails that trigger when visitors to your website take particular actions: subscribing to your email list, visiting a specific page, or starting a cart.
5. Cause Marketing
Cause marketing allows your business to attract more attention from your local community while giving back to a cause that matters to you. You can choose a reason that fits your business's personality, goals, and methods, then draw in consumers by showing your support. Some cause marketers showcase their involvement with the local community:
Participating in rebuilding a playground
Getting involved with a program in the local community
Giving back during the holidays, for example
Other cause marketers choose to invite customers to give back alongside them, matching donations for toy drives, food drives, and other initiatives or giving customers the chance to connect directly with the causes they support. Cause marketing is also a great way to partner with other organizations in your local community, making new connections and spreading awareness of your brand.
Growing your business is an ongoing process--and word of mouth isn't enough to make that happen. By launching a marketing campaign that focuses on increasing brand awareness, you'll find that you can connect more effectively with your target audience, bring in new business, and expand your business knowledge within the community.