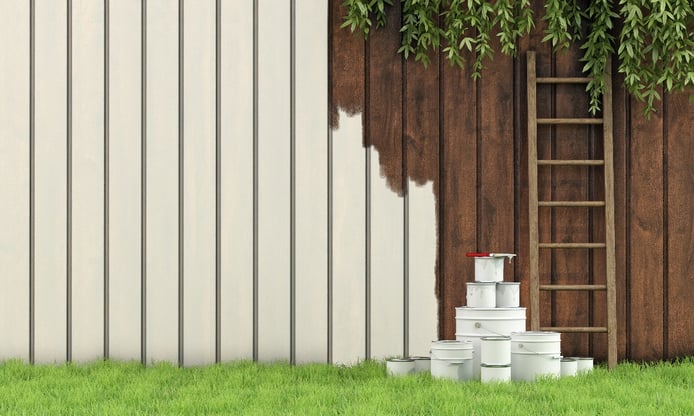 With the shelter-in-place order still in place and spring temperatures rising, many people are looking for ways in which they can get fresh air while social distancing. Fortunately, there are many options for outdoor home improvement projects that can help make your time at home more purposeful. If you're looking for an opportunity to get your family outside during this quarantine, consider some of these outdoor home improvement projects that you can tackle right now.
Update Your Backyard
You and your family are probably beginning to spend more time outside as the weather begins to warm up. As a result, you may have decided that your backyard could use an upgrade. Updating your backyard can help turn it into your own private sanctuary--a place you'll enjoy coming back to long after the stay-at-home orders come to an end.
Build a fire pit. There's something quite cozy about gathering around a fire pit with your family. There are many different ways to do this, all of which can get your family involved while upgrading the backyard space.
Add backyard furniture. Having a place to sit and enjoy your backyard will encourage the whole family to spend more time outside as the days get warmer. Do some research to see which local businesses have outdoor furniture available for curbside pick-up or delivery. This will allow you to maintain social distancing rules while supporting a local business.
Incorporate some entertainment. Think about some great games and other activities you'd like to engage in with your family--and then decide how you can add them to your backyard. Some ideas are a blow-up pool, cornhole boards, or even a badminton net. These additions will get your family out of the house and can even keep them active in a unique way.
Add lighting. While it might be getting darker later in the evening, this is a great time to finally install some outdoor lighting. This lighting can serve as security lighting or even just make it easier for your family to enjoy more time outside as it begins to get dark.
Create a grilling/eating space. Thanks to stay-at-home orders, everyone is cooking pretty much every meal at home. Maybe you've got a grill that hasn't been used in a while or you're looking to get one to add some variety in the meals your family is cooking. Creating an outdoor grilling and eating space gives you an opportunity to move some family dinners outside.
While these projects will serve as chances to get your family out of the house, the updates you make will be something you all enjoy well into the future.
Refresh Your Landscaping
It's officially springtime and lots of people are beginning to refresh their landscaping and gardens. Whether it's already a hobby of yours, or one you've always wanted to take it, now is a great time to freshen up your home's landscaping. Here are a few ideas:
Freshen up the plant beds. Take the time to remove any weeds and prepare your plant beds for some new additions. Spring is the perfect time to make your yard look its best.
Plant new bushes and flowers. Now is the time to update the greenery in your yard. Add some beautiful flowers or bushes that will enhance the overall look of your landscaping.
Add new mulch or dirt. A fresh layer of dirt in your flower beds or mulch in the front yard can make your home look its best.
Incorporate decor into your yard. Consider adding outdoor decor to your yard such as lanterns, wind chimes, bird feeders, and more. These additions can give a new feel to the exterior of your home.
Once you've decided on what additions you'd like to make, check your local nurseries and garden centers for local delivery and curbside pick-up.
Decorate Your Deck
Your deck is the perfect place to relax and enjoy the sunshine while maintaining distance from others. This space is on that you'll go on to enjoy long after quarantine. Consider adding the following:
New patio furniture. Having a comfortable place to sit outside can be a great escape during this time. Update your existing cushions or invest in new furniture to complete your outdoor seating area on your deck.
Lighting. The right lighting can make it possible for you to enjoy your deck at all hours. With everyone remaining at home, it's important to have many spaces around your home to spend time with your family.
Decorative pieces. Whether you already have your deck put together, or it's a project you're taking on right now, adding decorative pieces can transform your space. Order new decor online, pick up curbside from local businesses or even shop from within your home to change things up.
Clean Up the Property
With more time on your hands than usual, it's the perfect time to clean up your property and make it look its best. Try pressure washing the house to remove dirt, removing weeds around the property, touching up paint, or stain fences and gates with fresh coats. With a few simple steps, you can have your home looking like new and refreshed.
Upgrade the Accents
The accents to your property can transform the way it looks overall. Paint and replace your shutters, paint the front door, or add wreaths and accents on the windows and doors. Updating those accents is a great way to freshen up the appearance of your home.
Since you're spending more time at home than ever, why not make the most of your time? While you have your family at home, this is the perfect time to take on those projects that you've had on your to-do list. As you're completing the updates to your property, keep local businesses in mind. Those local businesses will benefit immensely from your patronage during this period. Even though we're currently under a stay-at-home order, these outdoor home improvement projects are opportunities to spend quality time with your family while getting outside.