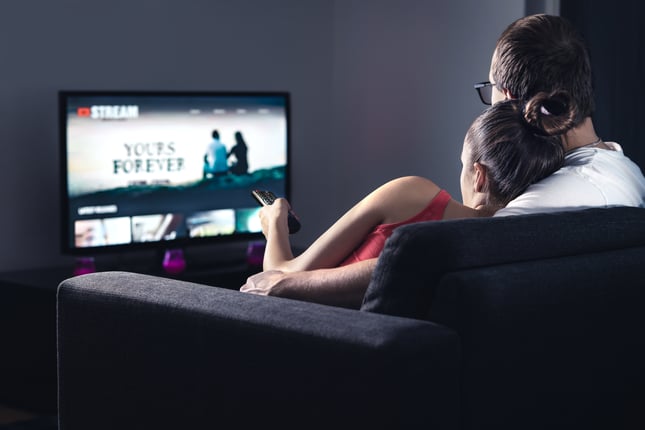 The average American household subscribes to around three streaming services. These services see a high amount of viewership: the average American also streams around eight hours of content each day, between online video content and streaming services. As OTT continues to grow in popularity, it also becomes increasingly important that your business utilize this platform for reaching customers who might be interested in your services.
OTT, or over-the-top television, is the medium of streaming content of the customer's choosing directly to their device. Instead of needing to wait on a program to come on, consumers can choose exactly what they want to view and when. Popular OTT services include platforms like Netflix, Hulu, Amazon, and iTunes. Now that you understand what OTT is, let's talk about why it's so important.
Why is OTT Important in Today's Market?
Traditional marketing and TV advertising are still highly successful methods that allow many people to reach their marketing goals. Increasingly, however, more people are turning to OTT services because of the convenience they provide. Users have become increasingly demanding of their content. They want the content they want to see instantly, on their time. They want to select exactly what they want to watch. If it doesn't meet their needs, consumers want the ability to quickly transition to something different.
They also have highly specific demands with regard to commercials. Seventy percent of viewers are willing to accept commercials on their streaming platforms if it means paying less for those services. That doesn't mean, however, that they're open to "in their face" ads that interrupt the overall viewing experience. Instead, users want ads that fit with what they're watching. They want a personalized, tailored experience. Additionally, they want content and ads tailored to their needs. The better the ads fall in line with their current lifestyle, the more likely those users are to respond positively to them.

Overall, OTT platforms and their commercials are seen as being less interruptive to the user's experience. In return, this can help make the customer more receptive to the ad they're watching. As many as 40% of viewers have paused a program to learn more about a product advertised while streaming. On OTT platforms, users complete the ad more often than on other platforms. By utilizing this platform, your business can meet consumers where they already are.
How It Affects Your Business
Advertising on OTT platforms can result in a number of positive effects for your business. First and foremost, it creates more touchpoints with consumers who might be interested in your services. Consumers often need multiple interactions with your business before they're ready to make a purchasing decision. They don't simply see one ad and jump into a purchase. Instead, they need to connect with your business several times, often in several different ways or across different platforms. The more touchpoints you have, the greater the likelihood that a consumer will make a decision in favor of your business. OTT also offers you the opportunity to reach more people. You can customize your target audience so that you can get your ads in front of people who are most likely to connect with your business, increasing the odds that they will take action.
In addition, OTT ads make it easier for consumers to take immediate action on an ad they have seen. As many as 88% of Americans use a second screen while watching TV, whether they're streaming or viewing television content directly. That includes streaming on a device that makes it easy for them to take action on a specific ad through a clickable CTA. As a result, the ad will be less likely to be forgotten.

With 71% of internet users using OTT services and 49% of those subscribers using them at least once a week, this medium remains an excellent way for your business to reach consumers. Not only can utilizing OTT ads prove a highly effective way to connect with your target audience, but it can also help you reach other consumers on the platform. OTT ad spend has increased steadily over the past several years as more businesses and organizations have opted to take advantage of this platform.
OTT is quickly becoming an incredibly vital part of advertising today. Businesses who want to reach consumers on a customized platform that offers a higher degree of connection have already turned to OTT and experienced its benefits. Don't let your business get left behind!