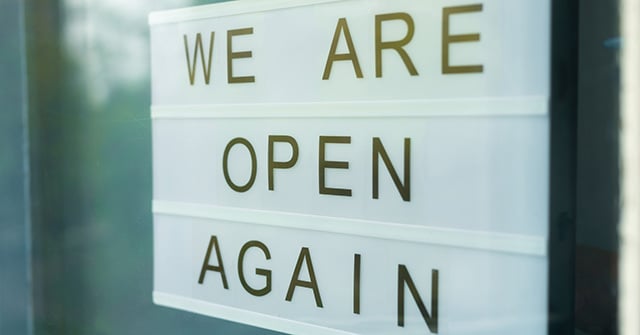 Many businesses are starting to prepare for reopening, making a transition that will allow them to resume more normal business operations. Customers want to know what businesses are doing as they make that transition, including what steps they are taking to keep them safe. As you prepare for reopening, consider these strategies to help you share that important message with your customers.
Create a New TV Commercial
If you want to reach a wide selection of local customers, a new TV commercial is an effective way to reach them. A TV commercial can let both existing and potential customers know exactly what to expect as your business reopens. Here are a few ideas for creating a new commercial while remaining safe:
Use past marketing creative. Incorporate images from past campaigns and other creative material to create a bridge between the old and new, as well as allowing you to create a commercial quickly.
Work with a media partner to plan a shoot for a new commercial. Like you, your media partner is hard at work adapting to social distancing guidelines. As you work with a media partner, you can shoot new commercials at a socially acceptable distance.
Share your commercial across platforms and channels. Right now, your business needs to be expanding your reach to ensure that you are getting in front of all that can benefit from your services. By integrating your marketing, you're creating another touchpoint and increasing your chances of gaining new customers once your doors reopen.
Run a Social Media Campaign
As you plan to reopen your business, get your customers excited about what's coming. Share your updates on social media to help prepare your customers for what they can expect and how they should be prepared when visiting your business.
Create a branded hashtag. Use a hashtag specific to your business that will allow your customers to find your updates and information easily when they need it.
Put together a short video or repurpose your TV commercial. Consumers are spending more time online, whether that's to get the latest updates or find entertainment. By putting together short videos or reposting your commercials, you have the chance to provide both.
Give customers a call-to-action inviting them to visit your website. On your website, you can provide a full list of updates, including the answers to the most common questions you see across your social channels as you prepare for reopening.
Incorporating social media for your 'welcome back' message will help you reach more potential customers, provide real-time updates, and allow you to engage with those who are looking forward to returning to your business.
Send Out Direct Emails to Customers
Your mailing list is an ideal way to update customers about what's happening with your business. This allows you to connect directly with your customers and provide them with the information they need to know. Consider:
Including updates in your regular newsletters. Make sure customers know what to expect by including the most important updates in the communications they're already opening. Dedicate a section of your newsletter to updates on the reopening of your business and include a link to your webpage where the information can also be found.
Sending out an email dedicated to the reopening. Once you have a plan in place for reopening your business, send out an email to your customers so they know what to expect when they return. Whether that be new hours, adapted operations, or new requirements, this will be helpful for them to refer to when they need it.
Encourage customers to follow you on social media and visit your website. Including links to your website and social media pages can encourage your customers to connect with you in multiple ways. Your social media and website are great places to engage the consumer while also keeping them up to date on your business.
Update Your Website Regularly
Many of your customers will check your website first if they want information about your business and reopening. Making that information readily accessible to your customers can help for a smooth transition as they prepare to return to businesses. Here are tips for updating your website with the necessary information:
Have a banner or navigation tab on your website. A banner will catch the visitor's eye and help direct them to the right area on your website to obtain the information they are looking for. Use it to direct your audience to a landing page dedicated to your precautions and other measures you're taking to keep customers safe.
Tell customers what you're doing and what they can expect. Inform your customers of the steps you're taking and how you're keeping them safe. Whether that be new store hours, requiring masks, or limiting the number of people in the store, it's important that this information is provided prior to them visiting your establishment.
Keep it updated. As you receive new information or regulations, make updates on your website. Right now, consumers are relying on businesses' websites to provide them with the most up to date information and hot it affects them directly.
Add a subscriber form. A subscriber form will help you to capture email information so you are able to send updates directly to customers' inboxes when you have them.
Everyone is eager to get back to business and a more normal way of life. As businesses begin to transition from closures to reopening with new regulations, a welcome back message can help inform consumers while preparing them to return to their favorite business. By taking these tips into consideration, you can properly prepare your customers for what's to come as you begin to reopen your doors.