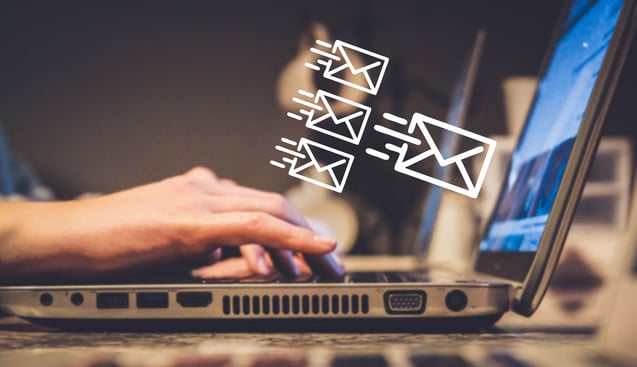 Today, we're living in an increasingly digital age. Because of the reliance on digital media today, email marketing is only going to continue to be one of the best methods for connecting with your customers. Simultaneously, direct mail is less popular today as more people turn more exclusively to email. This is why a well-managed and optimized email marketing campaign can be invaluable when used in combination with the rest of your digital marketing efforts.
There are many reasons why you should use email marketing. Here we'll review some of the benefits of email marketing and how you can use this platform to nurture leads and increase sales.
Out with the Old, In with the New
Direct mail is still successful, but it often requires a lot of money to have direct mail pieces designed, printed, and mailed out. High-quality direct mail campaigns can be expensive and yield less ROI, particularly for businesses starting out with a smaller budget. However, email marketing is one of the most cost-effective options in a comprehensive digital marketing campaign.
Another disadvantage of direct mail is the physical nature of this marketing method. While direct mail pieces can provide a certain level of tangibility that makes them memorable when used right, those flyers and other pieces often wind up in the trash or left at home and forgotten. The beauty of emails is that they can be pulled up anywhere, and at any time.
Benefits of Email Marketing
There are several benefits of email marketing that make this platform worth using in lieu of or in addition to direct mail.
Affordable Advertising Medium
Email marketing is an affordable medium compared to some other options available. While specific tools and assets may be an additional cost, they aren't nearly as high as direct mail can be. With direct mail campaigns, you have to pay for design, printing, and delivery, which can also take more time. Through email, all you need to do is consider the content and layout of your emails, and determine if you want to include additional digital content in your emails.
The affordability of email marketing is what makes it one of the best channels to boost ROI. If you find that your email campaigns aren't performing the way you'd hoped, it's also easier to make changes, and you won't feel as though you wasted as much time, money, and resources.
Set Automatic Sequences
For your email marketing campaigns to be successful, you should try to segment your audiences and make sure your email campaigns cater to each segment. Marketers who implemented segmented email campaigns were able to see up to a 760% increase in revenue. In addition to campaigns designed for each element, you can use automated sequences to make sure leads are carried along the buyer's journey at various stages.

For example, you could send custom emails to customers who expressed interest in certain offerings that recommend similar products or services. Through the use of both segmented and automated email campaigns, you can stay in touch with your audience while giving them the sense that you're speaking directly to them.
Directly in the Hands of the Consumer
Using email, you can also make sure that your audiences see you more reliably than direct mail. Emails land directly in consumers' hands, whether they check their inbox on their computers, tablets, smartphones, or other devices. You don't need to wait for it to be delivered to recipients the way you would with direct mail.
Easily Accessible
Email is also highly accessible. People will have the chance to see your emails and conveniently open them from anywhere, without the need to check the mail at home or at the office.
Ability to Drive Consumers to Other Places
You can also easily integrate email marketing with the rest of your digital advertising and marketing campaigns. For instance, you could send recipients to new blog posts if they're signed up for your newsletter during the awareness stage. You could also send them to product or service pages where they'll find offerings that match their interests or past purchases. You may also encourage people to contact you online by linking to your contact pages. If you want to gain more engagement on your social media pages, you can also include clickable icons at the bottoms of your emails to make it easy for people to find your profiles and follow you.
Include Interactive Content
If you want to make your emails more enticing to recipients, consider including interactive content. Various types of interactive content have been shown to increase click-to-open rates by as much as 73%. Interactive content could include anything in your emails that encourages people to engage with your emails, often by swiping, tapping, or interacting in other ways with the content. You could include GIF images, which make your emails animated, or you can use brief videos, surveys, or content that allows users to change certain elements of the messaging based on their preferences.

Use Email Marketing to Your Advantage and Engage Your Audiences
When used correctly, email marketing can be one of the best tools in your marketing toolkit. Although direct mail isn't wholly outdated, there are certain advantages that come with email marketing that you won't find with direct mail alone. You'll be able to connect with your audiences, carry them down the sales funnel, and see improved overall ROI with a robust email campaign.