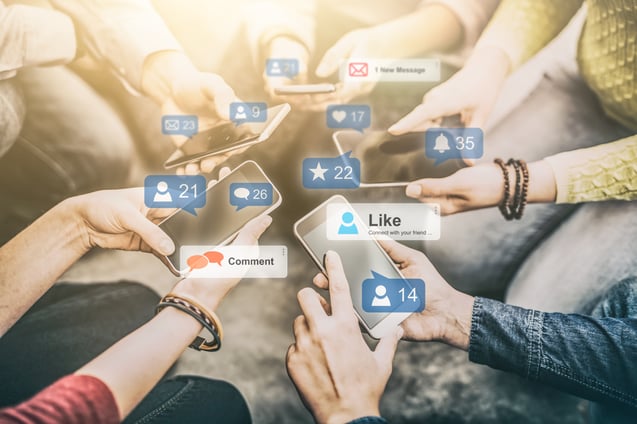 Looking for a cost-effective way to connect with your target audiences? Social media offers excellent access without much cost to you. Through automation software, it's even easier to maintain a presence on social media with minimal effort. Subsequently, you'll be able to get the most from your social media marketing campaigns while directing your focus on more pressing matters.
It's important to know which platforms to use to succeed on social media. You might be tempted to use every option to your advantage, but this strategy is highly inefficient. Instead, determine which platforms are optimal based on your individual needs. If you're ready to up your social media game, here, we'll go over the six most important social media platforms for business.
1. Facebook

Facebook is a massive platform that enables you to interact with your customers and advertise through their platform. It remains one of the most popular platforms, with over 2.8 billion active users today. This platform's versatility and the tools you can use to advertise also make it among the best for marketers.
With Facebook Ads, you can highly target your campaigns to reach only the most relevant audiences. You also have the option to launch video and image ads, and in-depth analytics allows you to track your campaigns' success easily. For most businesses, Facebook is a potentially invaluable asset.
2. Twitter

What makes Twitter stand out is the ability to access customers and engage in conversations with them directly. While you can engage with audiences via comments on Facebook, Twitter can feel even more personal. Using this platform, you can personalize your messages to customers, which can lend a more human personality to your brand.
Twitter ads are highly successful at reaching consumers, with engagement rates of up to one to three percent. This is significantly higher than Facebook's average click-through rate of 0.119%. One of the reasons for this high level of engagement is that ads appear in people's streams instead of on the sidelines.
3. Instagram

Using creative visuals, you can add more personality to your brand development. Instagram's video features offer an excellent opportunity to add character and put a specific face to your business. People love visual content, making Instagram ideal if you want to connect with audiences on a primarily visual medium.
Keep in mind that Instagram's demographics tend to skew younger, with the largest audience on the platform consisting of 25 to 34-year-olds, just ahead of 18 to 24-year-olds. Like Twitter, one of the best ways to target your audience on Instagram is through the use of hashtags. With targeted advertising to younger demographics on Instagram, your brand can have the chance to shine through appealing visual media.
4. LinkedIn

If you want to connect with professionals and your industry at large, LinkedIn is the best platform to use. It's prevalent among B2B companies as an advertising tool and a recruiting and press tool. You can use LinkedIn to push B2B ads while searching for talent and making press releases.
You can also share industry-related inspirational LinkedIn posts or new blog posts from your website. In the process, you'll be able to establish your brand as a thought leader in your industry. In summary, look at your B2B LinkedIn strategy as a networking opportunity, much the way other professionals perceive the platform.
5. YouTube

If you have a lot of video content you want to share, YouTube reaches many people across all demographics. If you wish to inform or entertain your audience, you can achieve both with engaging YouTube videos.
Another advantage of using YouTube is that it has Google's backing, which means that Google Ads and SEO efforts work with the platform. If you want to boost search engine rankings, YouTube offers plenty of opportunities for posting videos as part of an inbound strategy. Additionally, it has many advertising opportunities to integrate your ads with other popular videos, maximizing exposure and viewership.
6. Pinterest

Pinterest is a platform with a unique focus on lifestyle elements, including crafts and home decor. While their demographics consist primarily of women, a growing number of men are joining the platform. Despite also being underutilized, Pinterest offers some of the best ad performance of any platform: A staggering 87% of users have made a purchase based on something they saw on the forum.
If you want to drive purchases for decor and other similar lifestyle products, Pinterest can help you meet your conversion and sales goals.
Connect with Consumers with the Right Platforms
Social media will remain one of the most influential and inexpensive ways to reach audiences of all types. To develop a solid social media marketing campaign, choose the right platforms based on your brand and the goals you want to achieve. With a good strategy behind your business, you'll be able to establish and maintain a strong connection with customers and drive high ROI.