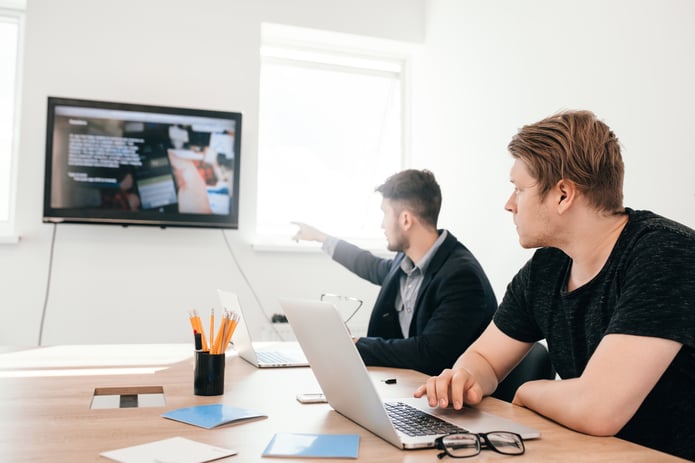 If you want to boost your marketing ROI with an effective channel, OTT (over-the-top) advertising is one of the best tools to use today. If you're new to this concept, you might be wondering, "What is OTT?" Put simply, OTT advertising entails advertising with video ads over streaming services.
"Over-the-top" refers to media services that people access via the internet and connected TVs, bypassing broadcast, cable, and satellite TV platforms. OTT services like Hulu and Netflix are popular among many who don't spend as much time watching traditional TV.
While traditional TV ads aren't obsolete, as many as 55.1 million people are expected to stop watching regular TV by 2022, making OTT a critical element of any marketing strategy. OTT ads are also highly profitable for advertisers, with ad revenue for OTT video ads projected to reach $119 billion by 2023, which translates to 51% of all OTT revenue. Here we'll discuss why you should be implementing OTT ads and the specific ways this channel can boost ROI.
Why OTT?
So, is OTT effective? The short answer is yes, OTT advertising is a potentially invaluable asset for any business. As mentioned, a growing number of people are transitioning away from traditional TV as streaming services become increasingly convenient and affordable. Many services also offer free versions with ads, which people are still willing to watch in exchange for cost savings.
If you're not using OTT advertising, you're missing out on a huge opportunity to connect with younger audiences and others who may not see your traditional TV ads.
What Are the Benefits of OTT?
If you want to discover how OTT ads can help your business increase ROI and connect with audiences, the following are some specific OTT advantages.
Advanced Targeting
Unlike traditional TV ads that only target viewers in a specific region or on a particular channel at a particular time, OTT ads offer more advanced targeting capabilities. Using OTT, you can target audiences based on their interests in some highly specific niches, the times when they're most likely to stream their favorite shows or movies, and demographics such as age, gender, location, occupation, and more.
Remember that traditional TV channels cater to many audiences, meaning your ads may not resonate with them. Conversely, people choose the specific programs they want to stream within hyper-specific genres and subgenres. This gives your ads the chance to establish a stronger connection with audiences.
Additionally, you don't need to schedule ads for a particular time, as ads only play when viewers are actively streaming. In turn, you don't need to worry as much about how many people will actually be viewing your ads.
Viewers Watch to Completion
OTT ad breaks are typically much shorter than traditional TV commercials, which means that people are much more likely to view them. Shorter ad breaks mean that viewers are less likely to get up and perform another task as ads play. Subsequently, more people will watch to completion.
Another reason why people are more inclined to watch OTT ads to completion is their relevance. Unlike conventional TV ads, you can highly target OTT ads to reach people who are likely interested in your offerings. Because of this, more viewers will be actively engaged.
Less Expensive Than Traditional TV Ads
When you weigh the benefits of OTT ads vs. traditional TV ads, you'll notice OTT is less expensive. Through hyper-targeting, you won't need to spend as much on OTT advertising while maximizing your reach. You'll also be able to avoid wasting money on commercials that air at the wrong time or in front of the wrong audience.
How Does OTT Increase ROI?
Maximizing ROI with OTT is easy because of the advantages these platforms offer. For example, advanced targeting means your ads only play in front of the right people at the right time.
In addition, people who watch your ads to completion are more likely to recognize and engage with your brand. This is particularly likely if they see your ads multiple times. While watching their favorite programs, people may begin researching your brand using their mobile device or laptop if they see an ad that piques their interest.
Finally, lower overall costs for OTT ads enable you to redirect more of your budget to other elements of your marketing plan and general growth. With the ability to gain deeper insights into audience engagement and reach, you'll also be able to optimize campaigns more effectively. All of these advantages translate to increased ROI that makes OTT ads a worthwhile investment.
Implementing OTT in Your Marketing Campaigns
OTT advertising is crucial for many businesses if they want to supplement their TV ads. However, you must be able to successfully implement OTT to get the most from your marketing strategy. With the help of a reliable media partner, you can get the best possible results from your campaigns. You'll benefit from highly targeted campaigns that truly reach and resonate with viewers, boosting brand awareness, engagement, and ROI.