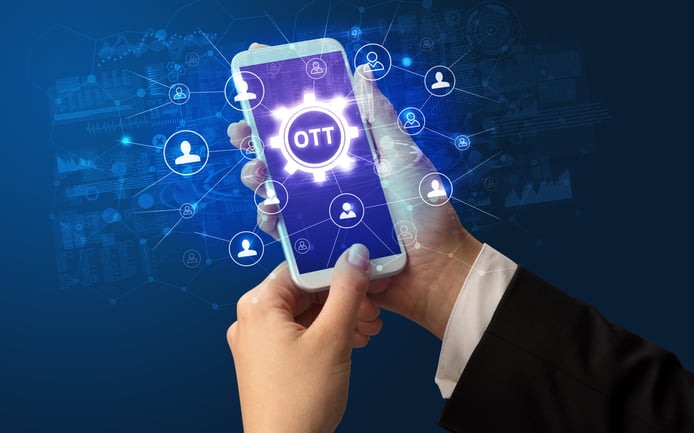 Over-the-top (OTT) advertising, which consists of ads played over streaming services, is highly relevant in today's marketing. Millions of people stream videos, music, and podcasts on a wide range of platforms. If you're not implementing this strategy for your business, you're missing out on one of the best marketing opportunities. Using OTT, you can experience several benefits that keep you ahead of competitors and attract your audience.
So, what are the benefits of OTT, exactly? Let's review the advantages of using OTT marketing to reach potential customers.
OTT Is Revolutionizing How Marketers Advertise

TV has gone through many changes in recent years, as most people are forgoing cable and switching to streaming services. Today, video streaming services account for around 25% of consumers' collective time watching TV. While audiences are gradually moving to streaming services, advertisers are following them and seeing numerous benefits of placing OTT ads.
One of the principal advantages of OTT advertising is bypassing the need to secure a spot on scheduled TV. Additionally, there is a considerable growth potential for marketers when using these services. Businesses can drastically increase ROI for ad spend by targeting specific audiences, with hyper-targeting that isn't achievable with traditional TV.
Easily Reach Your Niche Target Audience
OTT provides niche targeting for advertisers as opposed to broad audiences. With in-depth demographic data, you can benefit from transparency regarding who is watching. In addition to identifying your audiences, you can determine precisely when they're watching and what device they're using to watch your ads. Subsequently, you have the chance to target a more engaging audience.
Using OTT, you can also more easily fit ads into what someone is actively watching, with ads that match their interests. Another benefit of targeting audiences through OTT advertising is the fact that ads are often non-skippable. Couple this with the fact that shorter ad breaks mean your audiences are more likely to watch them through to completion. Even with a premium option to remove ads, 70% of viewers accept them in return for less expensive rates on streaming services.
Find Your Engaged Audience Across Multiple Channels

OTT enables advertisers to re-target their audiences across several platforms. This helps maximize your reach well beyond streaming services, keeping your brand top-of-mind. Then, this can then lead to more interest and recognition for your brand, eventually increasing lead conversions and sales.
Through OTT, you can re-target audiences on social media, websites, and other ads. In the process, you'll be able to ensure your audience doesn't stray from you. You'll ultimately increase engagement by bringing viewers into multiple channels of your marketing strategy. Over time, this will build trust and get people to think of your brand over competitors when they want to make a purchase.
Get More From Your Ad Spend
OTT can increase your marketing budget in several ways. Using OTT, you can reduce wasted money by only showing ads to particular, interested audiences. Unlike TV, you won't have to worry about whether your audience is engaged or watching. Ads only play when viewers are actively streaming, and those ads are far more likely to be relevant to them.
It's imperative for advertisers to be able to track the success of their campaigns, which is where OTT comes in. OTT ads make it easy to follow the success of your marketing efforts through in-depth analytics, including views and completion rates. Based on these analytics, you can easily track the ROI of your campaigns and determine what's working. In turn, you'll be able to identify any inefficiencies and work to optimize your campaigns more effectively.
If you need to make changes to your ad campaigns at any time, OTT services make it easy. With traditional TV, you would need to pull ads and wait for stations to remove them, followed by scheduling new ads to replace them. With OTT services, you can instantly pull existing ads and launch new ones to see results faster. This further helps boost ROI more quickly as you work to streamline your efforts.
OTT Marketing Is the Future of TV Advertising
OTT will continue to grow as more audiences switch almost exclusively to streaming over cable. This marketing strategy offers a lot of value while keeping budgets considerably lower.

Although OTT is a valuable asset, it's essential to know how to approach your campaigns from the start. If you're inexperienced with this advertising method, you may not be able to get the most from campaigns. If OTT is new to your business, consider working with an experienced media partner to develop effective campaigns that yield great results.